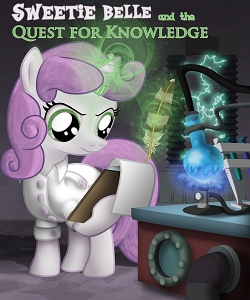 Source
This story is a sequel to Sweetie Belle and the Tablet of Knowledge
---
Sweetie Belle struggles to find a place between her ordinary life and the extraordinary one she just lived. At first, her friends and family are willing to "humor" her magic and science research she begins as a hobby, but they are forced to act when it starts to consume her social life and affect her mental health.
---
Lyra—a bit of a conspiracy theorist with an attraction to the occult—was otherwise a completely ordinary pony. With a recent discovery of ancient "precursor" technology and possible government cover up, however, she finds life has becoming far more interesting as she searches for the truth.
---
Book II of III
---
Cover art by me! See more of my art on my DeviantArt Page!
Thanks to Malefactory for editing.
Chapters (7)