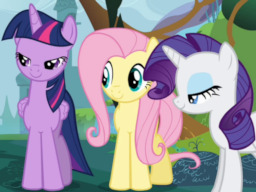 Fluttershy asks for an apology, but it's not really what she wants.
Content Warning: Suggestive Dialogue, Sexual References, StarTrix, RariTwiShy
———❇️———
This story is part of the First and Only Raritwi Bomb. A week's worth of stories and art all centered around Rarity and Twilight. If you liked it, the previous story posted is A Lady Fit for Royalty, and you can find a master list of all the bomb fics on the Raritwi Bomb master blog post.
Thanks to Short Mane, Shoe Leather, and BlackWidower for helping me hash out this idea a bit on Discord, and to ChudoJogurt and Nonchalant for pre-reading.
Chapters (1)