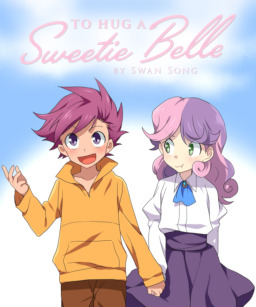 Source
  One sunny afternoon while walking in the park, Scootaloo suddenly decides to hug Sweetie Belle unprompted. As the minutes pass, it becomes clear that she has no immediate desire to let go. This leads the girls into a few awkward chuckles, some light ribbing, a long rambling conversation about everything and nothing... and an unexpected heart-to-heart as two very close friends confide some of their insecurities together, taking solace in the powerful trust and love they share for each other. Shortly followed by some more awkwardness.
---
A light, experimental, dialogue-only exploration of the social motivations that drive platonic physical affection. In other words: pure undistilled friendshipping fluff.
You have been warned.
Cover uses artwork by Megarexetera and NekoColonThree.
Inspired by Harmony Pie's "How to Hug an Alicorn".
Chapters (1)