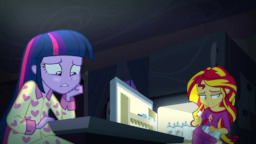 Sunset gets up in the middle of the night for a small midnight snack. Downstairs she finds Twilight awake as well, struggling to write the counter-spell. Sunset offers condolence, and ends up learning a big secret about Twilight. One that makes Sunset's heart flutter.
---
An extension of the Rainbow Rocks scene between Sunset & Twilight.
---
**Featured from August 23-25, 2016. How?! Thank you so much!

Chapters (1)