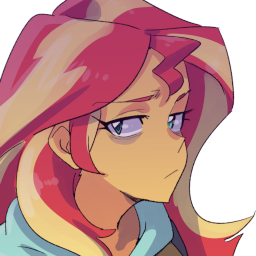 (Set before the events of Dear Twilight Sparkle)
Anon-a-Miss. The cyber bully that tore apart the school worse that Sunset Shimmer herself. What was supposed to have been a week spent with her best friends was instead a week spent in sadness.
Sunset finally breaks down, believing she is all alone. Like before, she'll have no family to spend the Holidays with. But with some help, she remembers that someone was with her all along.
---
Part of the Dear Twilight Sparkle Universe by myself and GamerTwilight!
Written mostly in one take by yours truly with minor editing. The second part I mostly threw whatever thought entered my head first, so sorry if it's confusing.
- I didn't bother changing the mess that is the Anon-a-Miss comic, mostly because I'm lazy and I needed something for Demon Shimmer to have her name, "Dee", lol. Feedback would be great (not on the point of Anon-a-miss, but rather for the point of the story, Demon and Sunset)! -
Chapters (2)