Two more today, folks! I meant to post this yesterday, actually, but things got in the way. Oh well!
Today, we've got a comedy and a romance. Let's see how these EFNW Scribblefest entries fare...
---
Story #8: Spike's Slightly Dangerous New Hobby by FrontSevens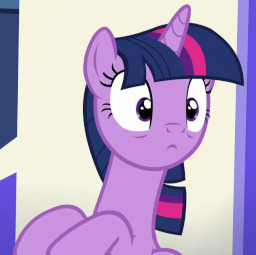 There's something people often don't get about comedy... it's surprisingly hard to write. So, is this fairly popular story funny? Well, let's hold off on that for a moment.
The story is about Spike learning pyromancy. He can make a ball of fire and hold it, juggle it, that sort of thing. Twilight sees this and freaks out about him playing with fire and has nightmarish visions of him burning Ponyville to the ground. She freaks out and goes way overboard, a la "Lesson Zero" or "It's All About Time," in an effort to prevent a disaster. Then something happens that I won't spoil that was, honestly, unexpected, followed by a heartwarming (?) life lesson at the end.
So, is it funny? Initially, I didn't think so. The whole "Twilight goes overboard preparing for stuff" isn't that funny to me without the visuals to work with it, which is why "Lesson Zero" is still funny. It's not badly written or anything, but I found myself just rolling my eyes going "Yes, Twilight freaks out, how much longer is this?!" But then, over halfway through the story, it suddenly got funnier. It started with this joke, wherein Twilight keeps Spike in a closet:
Twilight paced. "Making the room airtight, or even virtually airtight, would also impede the flow of oxygen into the room. And since not only is the fire rapidly consuming oxygen, but you're also consuming oxygen by breathing…"

Spike scratched his head. "It'd make it hard to breathe?"

"It'd put out the fire pretty quick. Oh, and that too."
As much as I typically dislike Spike abuse, that last line and the utter callousness of it finally got to me and I cracked up. And then there's the climax which really took the joke in a new direction. It's a little odd that a lesson is tacked on at the end; it almost feels satirical, and that might even be the author's intent. So, despite a slow start, this ended up being pretty damn funny. Maybe not the funniest story I've ever read, but definitely entertaining.
Recommended?: Yes. While not everyone will like it, I do think it was a good entry and the first genuine comedy I've reviewed for the contest.
---
Romance, Slice of Life, and... Anthro? Ehhhh...

Okay, okay, I won't judge. All I will say is that I'm not a particular fan of anthro MLP unless it's for comedy (like that fake "Apple Bloomers" show) and that I don't actually see why it's anthro instead of just, say, Equestria Girls universe. To each their own.
Hearts and Hooves Day has arrived (thought why it's still Hearts and "Hooves" when they have hands is beyond me -- okay, okay, I'll stop making jokes!) and Sweetie Belle is without a date. But she gets a letter from a secret admirer expressing their love and asking her to meet them at the clocktower. Not knowing who it might be, she decides to go and see who will confess their love.
I won't spoil the result, but I will say that Scootaloo is there, but wasn't the one that sent the note. Instead she was taking a nap in the bell tower. Also, she needs to take a shower.

It's hard to review this story without explaining too much about it. It's not entirely unpredictable, but just the same, it's not too cliched either. It's a silly little friendship/romance story about teenage confessions. Sweetie Belle and Scootaloo are written in character and the story does a good job of telegraphing body language. It's very readable and easy to visualize. There are lots of cute moments, and it's very much in the vein of high school romantic comedies, with just a bit of an anime flavor (though there are no "-chans" or "-senpais" in there).
Though this was a pretty conventional story, it succeeded at being cute and even a little funny. It's well-written without being too flowery and great if you enjoy shipping.
Recommended?: Maybe.

Well, it didn't wow me, but I can't deny that I enjoyed it for its familiarity. It's not bad, but it feels like it could have been written for any modern-day show, and doesn't quite feel like a "My Little Pony" story, if that makes any sense. Still, if you'd like something pleasant, familiar, and you're not so anti-anthro that you'd refuse to read a story with them, then it could be your cup of tea.
---
That's all for this round, folks! Stay tuned for the next one! In the meantime, enjoy this semi-topical comic. Peace!