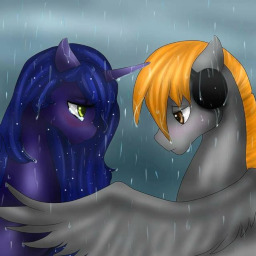 It has been five years since Celestia banished her sister, Luna, the dark side of the moon.
What she didn't know was Luna was pregnant when she banished her.
Luna son's father was a Royal Guard that had an affair with her.
After Celestia found out about this, she had other Royal Guards kill the father due to treachery against the princess.
Luna vowed to get back at Celestia for banishing her... And for killing her son's father.
Though she was to weak to do the job, she would send her now born son, Lirex Stargaze to get the throne back.
But will Lirex's heart get in the way of his orders.
__________________
Thanks so much to, Music Symphony, for editing.
Chapters (6)