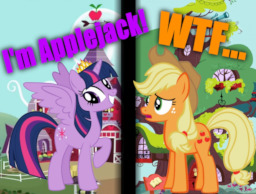 Being Twilight Sparkle is cool. Being best pony is great. Being Princess is awesome, minus the peasant's problems you gotta deal with.
But it all gets boring, y'know? Like, Twilight or no Twilight, when you've beat up a centaur's ass using all the Alicorn magic of Equestria, fucked up your friend's destiny by switching their cutie marks and then fixed everything by fixing a fake god's spell, and when you've tried every death-inducing experiment you could think of to test if, as an Alicorn, you were TRULY immortal or not, and found out that yes, indeed you were... Life gets dull in Equestria.
So, one random day, as she's sitting on her husbench (that's a bench that's also her husband, and not the other way around), she decides that she's tired of her routine and wants to change everything. By being Applejack.
Chapters (6)