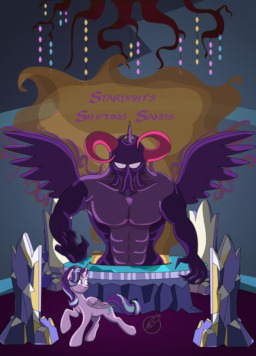 Source
The Dahaka are the Guardians of the Timeline. When something exists in the Timeline that should not be there, a Dahaka is sent to erase it.
When that which must be erased is being bolstered by Harmony itself and is in turn erasing something which should exist and creating multiple other temporal disturbances in the process, a Dahaka must make an effort to preserve that which should exist as a priority over erasing that which should not.
Luckily for Twilight Sparkle, Princess of Friendship, she is deemed 'essential' to the Timeline and effort must be made to preserve her as she is now, but the Dahaka must also complete its mission to erase. Good thing that cooperation is always an option.
(Original idea by Shagohad12. Co-written with Shagohad12. Inspired by and in response to StormLuna's 'Glimmerverse.' Dahaka concept from Prince of Persia: Warrior Within, but not a true crossover.)
Fancy new cover art provided by Little Tigress with a quoted price that I felt too low for the quality, so I tipped her a little extra.Here's a link to her DeviantArt gallery Please consider contacting her if you want some great art at a reasonable price.
Hey, apparently we got Featured at some point. Noticed on 3/14/18 with newest chapter.
Chapters (4)