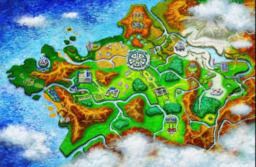 In the land of Equestria, it seemed like a typical day in the town of Ponyville. Three months have passed since the defeat of Tirek, and the land is once again at peace.
However, the Elements of Harmony are soon asked by Princesses Celestia and Luna to reopen an ancient gateway to another world they once visited, now sealed away for many years.
The Elements succeed, but their arrival in the world of Terra, better known as the World of Pokemon, didn't exactly go unnoticed. Now the Elements must ally with four Pokemon Trainers in order to save two worlds, defeat the evil Team Cosmos, and discover the ancient, buried past between them.
Shouldn't be too much of a problem, right?
====
Pokemon series Crossover, set in a mix of the game and anime universes , currently in Generation 7. Will have profanity and some violence. Primarily focusing on OCs, but will have appearances from canon characters such as Ash and Brock.
This will also feature content from the fan-game Pokemon Sage, which can be found Here. (I do not own Pokemon Sage, and I have also received written approval from the game devs to use their content. Again, I do not own any material from Pokemon Sage. I am merely using my personal character from the game and his team. Nothing else is mine.)
Roster of OC Trainers-Here.
Chapters (1)