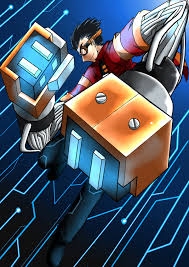 When Twilight Sparkle is summoned alone to Canterlot for a top-secret meeting, she expects the fate of Equestria to be on the line once again. As it would happen, she was only half-right.
The human world of Earth has lived in the shadow of Nanites, the microscopic machines unleashed nearly five years ago in a world-changing event. The multinational Agency known as Providence is the last hope in the never-ending war against the Nanite-created EVO monsters.
And it now seems that Equestria and the Elements are joining the fight alongside Providence's secret weapon...
An amnesiac, teenaged, weaponized EVO...named Rex.
====
Generator Rex Crossover, set during Season One and in Season 4 of FIM. Will have gore, swearing, epic action, and some romance. Some OCs are an added bonus.
Chapters (1)