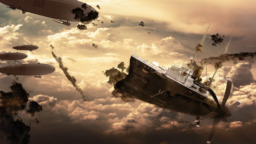 Source
[Part of the Skyverse. It is recommended you read the Prologue of "A Journey of Faith" before reading this.]
As you may be well aware, it's not every day that one of a country's cultural icons is lost - and when it does, it causes widespread panic. Rumours, conspiracy theories and denial run rife, and it takes years to recuperate...
So it was on the 19th of the 4th, 43 NCC. On that day, an incident occurred that sent shivers down the spine of every single pony in every cloud-city in the Sky. A band of pirates carefully co-ordinated an attack on one of Equestrian airspace's most beloved figureheads.
The attack failed... But the victory was phyrric, and the outcome would send a tremor throughout the Sky...
[Part of the Tales of the Sky series, and the first story in the Skyverse.]
Chapters (1)