Having passed the fourth anniversary of first posting one of my favourite works recently and having been asked about a sequel, I took the time to look back at History Repeats and explore my old notes and files and unused concepts.
Consider what follows the break to be potentially spoileriffic, and also to be a Blu-Ray Director's Commentary on some of the hidden jokes and references and deleted bits and pieces that didn't make the cut...
HIDDEN REFERENCES
Megan's session with her therapist slips in two small horse-related gags that I'm not sure anyone ever noticed.
First, her t-shirt: She wore torn blue jeans and a faded black t-shirt decorated with white block-letters that read KMFDM and GODLIKE above and below a harsh woodcut image of a hand reaching out to grab the world.
This refers to a specific cover image for a single by the industrial band KMFDM:


Now, apart from the obvious image of a larger-than-life human seizing a whole world and the subtle nod that Megan is perceived as "God-like" by the Ponies of Equestria, there is also track 3 on the 3-track single: Crazy Horses.
Second, the doctor's name. "Sewell" is an homage to someone who wrote about horses long before fimfic got online:

---
G1 REFERENCES
Megan's entire backstory is laced with copious references to the first generation of My Little Pony cartoons, from the Rainbow of Light and the Sunstone, to her many brushes with death facing the Smooze, Grogar, Katrina, Tirek and more, to Flutter Ponies, Ember, Majesty, Firefly, Posey, and the original Applejack.
This whole story was inspired by a look back at those surprisingly dark and action-packed cartoons, and wondering what so many near-death experiences and nerve-wracking, frantic adventures would do to a girl who wasn't even a teenager yet. When things were fun, it was a jolly adventure with talking animals and magic and dessert. When things went bad, they went BAD.
Megan Williams ducked a claw slash from a scaly monster that gouged a tree trunk in half in roughly her first 30 seconds in Ponyland, and the fun didn't stop there. She faced a satanic centaur, a world-drowning sludge flood, demented witches, giant bees, a slave-taking magical cat-woman addicted to power-boosting drugs, a pony-abducting ram overlord of a kingdom of shadows, and more. She watched ponies risk being ground to paste, burned alive, eaten, blasted to pieces, imprisoned forever, mutated into nightmarish monsters, and so very, very much more.
Don't let the frilly pantsuit and ice-cream parties fool you -- the ancient history of Ponykind made the present day threats seem positively tame at times.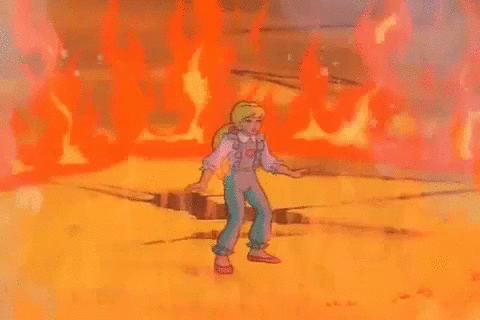 While Applejack's transformation into a Sleipnir-like creature was my own idea, the use of the Rainbow of Light and Megan's words of power was a direct reference to Lord Tirek's use of the terrible Rainbow of Darkness to turn Ponies into his monstrous chariot steeds:
In retrospect, I find it amusing that The Smooze, Lord Tirek, and now even Grogar have all been referenced in G4. More and more, the suggestion that G1 was the ancient, pre-founding-of-Equestria past of G4 is shifting from headcanon to ... canon?
---
CUT CONTENT
I often create cover graphics and title pages during the early stages of brainstorming, to help me visualize and ponder where I want a story to go. As a result, sometimes I create graphics that don't end up getting posted.
First we have a picture of Smoozed Rarity which was originally going to feature in Chapter One (don't tell her I showed her looking this terribly un-fabulous!):

And next we have an alternate title graphic, dating back to when the fic's title was going to have the name I ended up giving to the first chapter:
---
Well, there you have it! A few insider details about a fic I truly enjoyed writing.
If you have any other questions or observations about History Repeats, or want to share your own reminiscences about the fic or about G1, feel free to comment below!