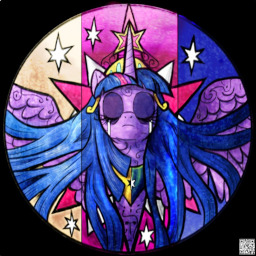 Source
Should you form attachments to mortals if you yourself will never die?
Losing the last of her friends in a battle that should never have been fought, Twilight Sparkle's world falls apart, until meaning and purpose come back into her life in the most wonderful way imaginable. But she forgets, again, that every living creature must eventually die...
Sequel to Not My Destiny, which you can read here. PG-13 for some mild psychological horror and plot-relevant, non-gratuitous injuries. I'll try to keep to the same chapter-a-day release schedule as I did back over New Year's.
Glorious cover art: Secreta Altare Window 3: Twilight Transcendent used with the kind permission of the magnificent confused--guy!
Chapters (17)