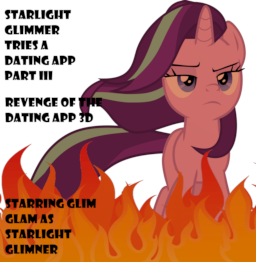 This story is a sequel to Starlight Glimmer Tries a Dating App PART II: Electric Boogaloo
---
Starlight Glimmer.
A once happy mare has been driven insane; the internet protests, her multiple failed attempts at dating apps, and so much more.
She's seen every profile on every dating app, messaged every profile, blocked every troll, clicked every scam link, downloaded every single piece of malware on her phone...and there's only one solution left.
Instead of continuing to try dating apps...
She must become the dating app.
Chapters (1)