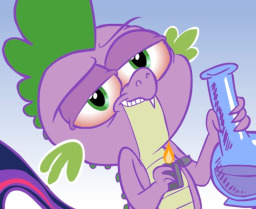 If you know spike, you'll know he see's some weird stuff day by day, but at the end of it all, no matter how impossible the events may seem, Spike has a sure-fire way to make everything feel normal again, and to relax after an irritating day of being forced to socialise: Getting High. Only problem with that is Spike often has trouble in his high state of mind and can't distinguish hallucinations from reality. So when he sees an attractive white and purple maned robot in the library and feels obligated to show it a good time, will anyone stand in his way?
Written for my group 30 Minutes to Write Challenges
Written in: 29 minutes and 32 seconds. (I had to write seriously fast to get it all in)
Edited in: 20 seconds (which consisted of a quick scroll through to check for auto-corrections)
Time left over: 8 seconds
Warning! Contains violent material, drug use, swearing, and references to rape.
Chapters (1)