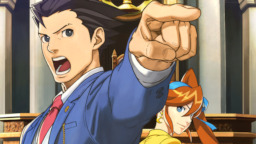 It's been over eight years for Phoenix Wright. Eight years since he was transported to the world of colourful ponies. Eight years since his showdown in the courtroom against Trixie over the fate of Rainbow Dash. Eight years since he was disbarred for submitting false evidence in a trial back in the human world. The last several years of investigation over the case that cost him his badge, and his subsequent return to the legal world has left his foray into Equestria as a faint memory, only the picture he keeps in his desk proving to him it wasn't a dream.
Coming off his most recent case, the ace attorney has decided to take a well deserved rest, but fate would have another plan for the lawyer, as once again his services, and those of The Wright Anything Agency, have been called to Equestria to solve the second murder in recent equine history. The stakes are higher than anyone, or anypony, could imagine, and if the defendant is found guilty, the repercussions could be disastrous. Day one of the trial is about to begin.
All rise.
A/N: While planning out my other fics and getting back into writing, I finished watching Turnabout Storm and noticed that the resulting "sequel" fics are lacking or overwrought. Consider this a writing exercise and an attempt to do the series justice.
Chapters (2)