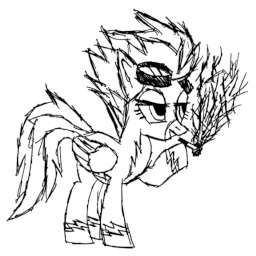 She's Spitfire - trick flier extraordinaire, commanding officer of the Wonderbolts, an Equestrian hero, and a role model for everypony that lays eyes upon her. For that reason, the fact that she smokes is something that the 'Bolts try to keep hidden - it protects her image, their image, and protects the youth of Equestria from her bad habit.
Because, as all of Equestria knows, smoking is bad.
Her secret remains contained within the Wonderbolts, to the point that many of their newest recruits don't even know about her habit until they join. So when they find out, well... they all have their own reactions.
And then there's her faithful executive officer, who hates her habit but is always there to back her up, in public or private. Because Soarin's her XO, and that's what an XO does.
This story is rated as 'Teen' due to the somewhat mature topics - particularly tobacco use.
Chapters (2)