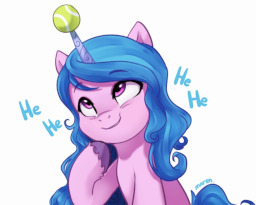 Seth and Izzy like to play-fight. They do it a lot. Perhaps more than your average pair of mismatched roommates should, if one were to take stock of the opinions flying around Bridlewood, that is.
While this was fine, maybe even arguably platonic, before the reunification—it quickly becomes a whole lot less fine, not to mention a lot more awkward, when magic is suddenly part of the equation.
---
Audio reading by StraightToThePointStudio!
---
Silly little story because I freakin' love Izzy and she is best G5 pony. Takes place after the events of the movie. Also has movie spoilers.
Chapters (1)