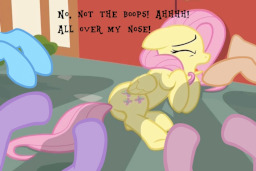 Source
Totally not an April Fools story. Non consensual nose-booping is serious business.
Fluttershy is betrayed by one she trusted the most, violated in a heinous act of non-consensual nose-booping. Enough edginess to cut a bitch ensues. Clearly the most horrifying story I have ever written; I can only pray it doesn't get me banned forever.
Contains: non-consensual belly rubs, non-consensual booping, non-consensual brushie brushie, non-consensual cuddling, paper-thin disguises, hood autism, ruined for marriage, edgy enough to cut a bitch, pregnancy does not work that way, law does not work that way, nothing works that way and I have no idea what's going on, april fools/foals
See my subscribestar for early access to fics and to help pay my bills so I can write more.
Chapters (1)