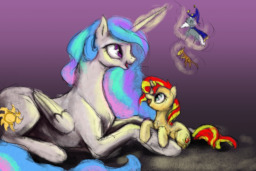 Source
As a filly, Sunset Shimmer made a difficult choice which affected not only the rest of her life, but the course of two worlds, when she turned her back on her mentor, her promises, and Equestria itself.
But there's more than one of everything, even entire worlds.
Now, another Sunset Shimmer, living in another world, comes to that same decision of trust or betrayal.
Though there are many Sunsets amidst creation, do they all share one fate?
Edited by Prak
Prereaders: Foals Errand and Minifig
Special Thanks to Between Lines
Art used with permission by SilFoe
Chapters (1)