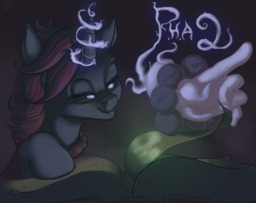 Source
This story is a sequel to Pony Horror Anthology
---
With the mounting tension of the unknown lurking behind every corner, ponies are thrust into the horror of things they should not see. Getting lost in a familiar place? Odd lights? A house never seen before? These strange oddities plus many more await them within. Will their sanity last?
Cover image by the amazing TenTinyThimbles! Check him out!
The Mare in Dark Mauve is owned by Lockheart.
Chapters (10)