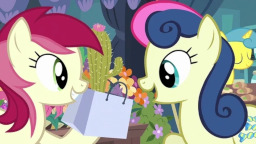 Source
For a happy couple like Roseluck and Lily Valley, it is the little things that matter: making a sale, gossip with friends, and good weather. Too much of a good thing can be hard to handle, and without anything big to worry about, little things can matter more than they should.
Sometimes it is better to misbehave and create a little trouble to refocus on how good things really are.
Written for the School for New Writers Class Project for June 2018.
Chapters (1)