So, I know what you're all thinking. "Jade! You're back! You haven't gone this long without posting a blog in years! Where have you been? What are you up to?"
Fatherhood is the most stressful and wonderful thing I've ever experienced. Everyday with my little gunslinger brings new frustrations and joys.
One thing it has not brought is much time to write.
To be perfectly honest with you all, there was a moment back in January, just when I went back to work, that I seriously considered throwing in the towel. It crossed my mind that maybe, just maybe, some things never end the way you want them to. Maybe no one would really care if I just posted the outlines of 'On Swift Wings' and 'All the Pretty Little Horses' and gracefully bowed out. At least you all would know how the story was meant to end, unlike those of us who loved 'Total War: Equestria.'
But that made me remember my frustration with not knowing how the war with the griffons is meant to end. It made me remember that we'll never know how Fluttershy reacted to Rarity's sleeping with Mac in SleeplessBrony's last published work. Even worse, it made me irrationally angry to remember how WE WILL NEVER KNOW IF TWILIGHT AND RAINBOW GOT BACK TOGETHER IN 'PONYVILLE UNIVERSITY' DAMN YOU FOREVER SLEEPLESS.
No. No matter how long it takes, even unto the end of FiM, my story will be told.
I knuckled down, finished a chapter of 'the Wicker Mare,' and waited for the words to come for the next chapter of 'On Swift Wings.'
And I waited. And I waited.
I tried some other stuff. I did a long-ass rewrite of Batman v. Superman on the FixingMovies reddit. I brainstormed the idea of a serial type story that I could post bi-monthly installments of just to keep the juices flowing. I adjusted the plot of 'Slender: the Whispering Woods' AGAIN.
Ultimately, I decided to go back to the original story outlines for 'On Swift Wings' and 'All the Pretty Little Horses' and revise them. That's what I'm doing now. 'On Swift Wings' is nearly ready to go back into production. I've excised several unnecessary plot elements and sped up the pace, so that should help things along. 'Wings' is really meant to be a shorter beast than 'Changelings' or 'Pretty Little Horses,' after all.
'Wicker Mare' and 'Here's to Us' are in stasis, but I have no intention of abandoning either.
Now, I said I wouldn't do anymore "this is coming soon" things, and I meant that. What I will do, however, is tell you what new story pages I have created and have ready to go should I decide (or you decide) the story is meant to be told.
-'For the Love of the Craft'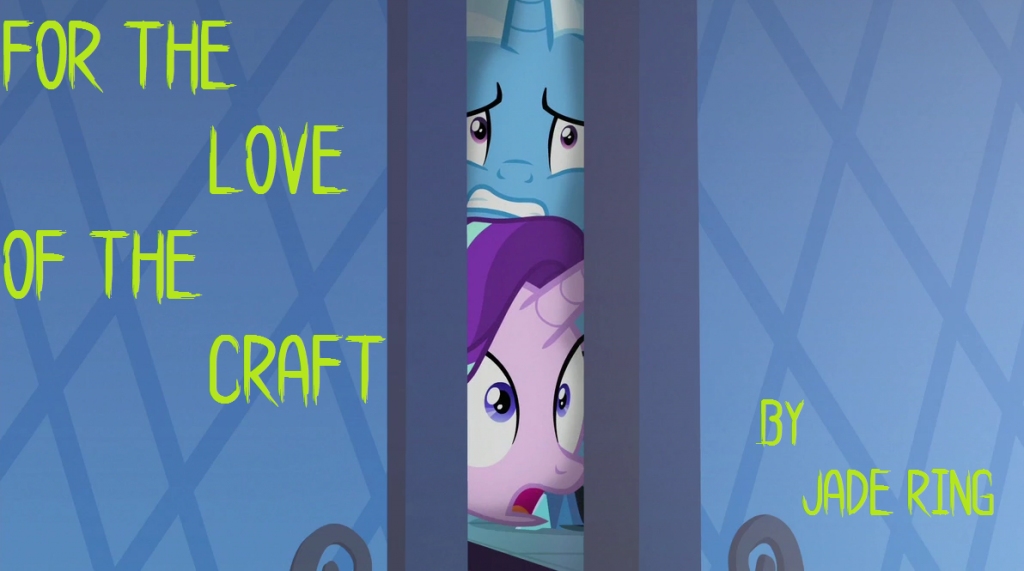 This was going to be my entry in Aragon's comedy contest, but a quarter of the way through, I realized it wasn't very funny. I still love the idea, though and haven't abandoned the story yet. Maybe for Halloween...
-'City Mouse, Country Mouse: A Love Story'


The first two chapters of this are done, actually. I blame certain unnamed Followers who've hooked me on RariJack.
So that's where we're at. Writing when I can, but that's really the same old story. To sum it up; I'm still here, I'm not going anywhere...
...and my pen has not yet run dry.
-Jade