Trotcon is over. I had a good time, though I was a bit fatigued due to switching medications during the event. Catching up with Fimfiction friends was truly awesome.

I wish I could have been more social, but I'm workin' on it.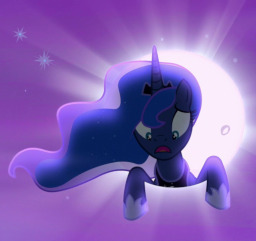 Oh. Oh! Oh, oh... oh.
I've cancelled my humorous ad now that it's been up for nearly a week. Alas, all stupid things must come to an end.

Fortunately, stupid is a renewable resource.
Up next will be two new story posts. First up, a prize-winning minific I submitted to the Speedfic competition. It's A Cry for Help, and it's probably also a cry for help. Either way, it's a very short, silly comedy that I wouldn't normally think to write.
Second up will be an original short story (a little more than 10k) called Knowing, which ranked 10th in a poll of which fics I should be working on next. It was supposed to be a comedy, I swear.

(It is not a comedy.)
After these, I'll be working on updating my three Incomplete fics, and more stuff to come.