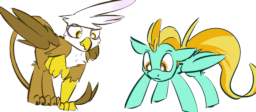 Source
This story is a sequel to Old Paths, New Directions
---
Hearts & Hooves Day is a pony holiday. It's filled with chocolates and flowers and other similar snack foods. It has cards with gooey sentiment. And it has lovestruck ponies making all kinds of grand, silly gestures to their special someponies.
Gilda is a griffon. And griffons don't go in for any of that kind of nonsense.
---
Edited by: Nightwalker
Written for the February Super Happy Hearts and Hooves Lovefest Fanfic Event
You do not have to read Old Paths to understand this. Its merely a sister story.
Now with Spanish translation. Thanks to SPANIARD KIWI for that.
Chapters (1)