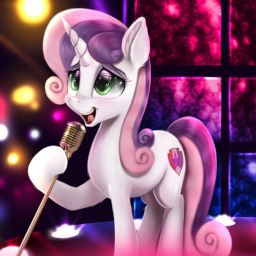 Source
Sweetie Belle's job at the national radio station, Equestria Public Radio, had been a major success. Working her way up from newbie audio technician to host in just a few months, every show she did every weekend was just another joyous radio where she could share her interests with the world. Every weekend night, she would come on and serenade the world with her personal jazzy picks and talk to so many people about whatever interests or idiosyncrasies they had. The only thing was, no one knew it was Sweetie behind the mic. All they knew was Lady Luxury was more than willing to listen to each and every one of her viewers.
Spike was lonely after he came to terms with Rarity's lack of affection. Months and years pining after her and barely a hint of reciprocated affection. While on a year long trip around Equestria, Spike had a lot of time to think and after days and days of soul searching and consideration, he realized the affection he held for Rarity's little sister just bubbling under the surface. A long time friend and companion, he was conflicted, so he called in to his favourite radio show to ask for advice.
A sweet wholesome fic about Radio host Sweetie Belle and Lonely Listener Spike. A web of love and pseudonyms inevitably to be unraveled. Will love withstand the deception?
Rated T for innuendo, crude humor, and mild profanity.
Chapters (4)