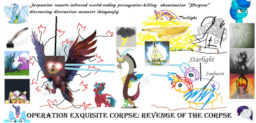 This is an exquisite corpse story that was written by members of the Reviewers' Mansion.
An exquisite corpse is a story is a collaborative writing exercise in which a group of people try to tell a story: the catch is that each author can only read what the author before them wrote and must continue despite not knowing the entire story. Here's the chaotic wreck that was formed.
The prompt chosen by Atom Smash was "Forever together..."
The atrocious cover art is done by myself.
The authors are, in order of the chapter written, Atom Smash, Buttery Bisuit, QueenChrysalisForever, short tale, Nailah, Jarvy Jared, Firefoxino, Ninjadeadbeard, Lone Writer, Stinium_Ruide, Armid, Arkane12, iAmSiNnEr and SwordTune.
Chapters (14)