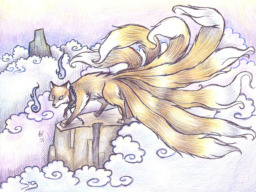 Y'know, I try to be open-minded, but I still never thought I'd wind up taking a trickster god's place in a world of candy-colored horses. My name's Chance, and I'm in way over my head.
What? Suppose I should back up a little. I'm just your average guy. I try to be nice to folks, when I'm near them, but mostly I just like to be alone with my stories. In hindsight, I should have been more suspicious about the old man in the bookstore, but no point crying over it now. I'll admit, this is exciting! A whole new world of magic and whimsy to explore? Count me in!
...It's a shame though. It's not quite as nice as I expected...
---
Part of Rust and Blackwing's Chessgame of the Gods.
Chapters (5)