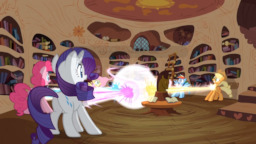 Our World is in peril, and Gaia, the spirit of the Earth can no longer stand the amount of pollution plaguing her planet. So she created 5 magic rings each to be wielded by five youn-
Wait a minute........Where did they go?
When 2 teleportation spells interfere with each other, Gaia's chosen gang of Earth's protectors along with their super-powered guardian being find themselves off of Earth and into the magical land of Equestria. And when a malevolent alien spirit plans to destroy Equestria, it's up to Captain Planet, he Planeteers, and the Elements of Harmony to stop him.
Chapters (9)