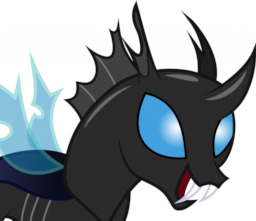 Source
Meet Drake. He's your average high school kid with average high school friends and average high school interests. That is, until one day his sister forces him to watch My Little Pony: Friendship is Magic. His world turns after that.
Even more-so when a couple weeks after discovering the show, he turns into a changeling in the middle of 2nd period.
Now taking shelter in the shadows, Drake is on the run. It's up to him and his friends to figure out what the actual hey happened, who did this, and how they can get him back to normal again before he gets shot down by a mad cop looking for vengeance.
Maybe he'll even find another like him...
---
Rated Teen for language, I guess.
I'd draw cover art but I'm a bad artist so have an internet picture instead
Chapters (5)