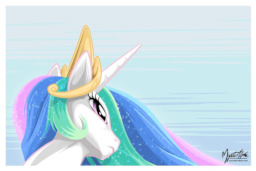 Source
She was the best pony everypony looked up to. If there could be one pony to best represent all the elements of harmony, it would be her.
It was long believed that she had no weaknesses, that there was no way to bring her down. There was no way to kill her, for she had lived so long it was only natural to assume that.
But the land falls into eternal night, for one day the sun does not arise. This time...who is to blame? The truth may lead to the unexpected...and unwanted.
Some secrets are best left hidden.
------------------------
(On Hiatus because I forgot where the story was going, and I didn't like it anyway, so I'll figure something out later)
Chapters (2)