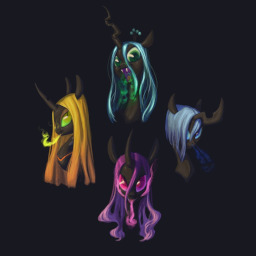 Source
There's an old adage passed around that you don't come between a mother and her children. Nowhere in Equestria is this more applicable than where a Changeling Queen is concerned. The ferocity with which they will defend their children is unparalleled. There are no regrets. There are no restraints. But then...
What would you do if you had hundreds of children?
And what would you do if suddenly, there was another Queen between you and your children?
*This story was largely inspired by the changeling headcanons and artwork of Carnifex who was also gracious enough to permit me the usage of said materials for this story.
~Behind the Scenes~
Main Author: Eeveexpert
Character Pre-reader/Secondary Author: Carnifex
Main Pre-reader/Editor: Spiritofthwwolf
Chapters (15)