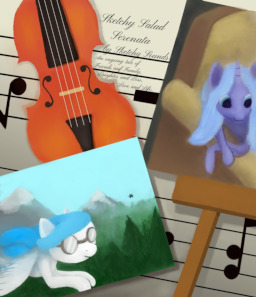 Source
Up until her heart was stolen from the pages of romantic musical overture, Octavia had given little thought to her ever falling in love.
Up until he was, by chance, introduced to Octavia, Sketchy Sounds would never have thought it possible that he'd meet the mare of his dreams.
Both were proven wrong though, and it has now been some time since that fateful day. As they embark on a new journey along the path life lays out before them, the future is filled with new challenges and events that will change how they see the world around them.
Their friends, too, will be faced with changes and trials that will mould them anew.
This is a tale of the everyday, and how destiny can turn the ordinary into the extraordinary in the blink of an eye.
This is a tale of friends and family, of laughter and loss, of love and of life.
This is a tale of who we are, and where we are going.
This... is Sketchy Salad Serenata.
(This is a direct sequel to Sketchy Salad Symphony. Reading of the former is not necessary, but highly recommended.)
Chapters (21)