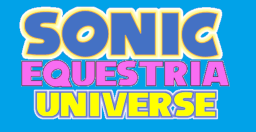 A brand new action/adventure/fantasy/dramedy series. Based off the Sonic the Hedgehog series and My Little Pony: Friendship is Magic.
Twilight Sparkle and her friends team up with the way past cool blue blur, Sonic. Their worlds merged and that means big, explosive and evolving adventures are to be had. Starting off the first story arc with a bang, "Power Insidious". Sonic's attempt to thwart another of Eggman's scheme gets him knocked out of battle and plunged into the mysterious world, Equestria. There, Sonic meets the Mane Six but also discovers Eggman's presence. That means trouble. Sonic must now deal with the mess he's in to stop whatever Eggman's planning on this world. But while that happens, somepony more dark than Eggman is lurking in the shadows.
Featuring an array of fan favorites such as Daring Do, Mighty the Armadillo and so many more, this series is packed with adventure filled stories about teamwork, respect, loyalty and trust. Blast through hordes of action with Sonic speed and laugh out loud with Pinkie joy as the stories told will leave everyone coming back for more!
There will be more stories to be featured in this series, such as team ups of favorite heroes and villains and origin stories. Follow this series to catch more action and fun in the future.
Chapters (4)