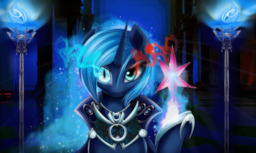 Source
The Elements of Harmony are no more. When Celestia used them against her sister to banish Nightmare Moon and restore her sister. They worked and failed them both. For the Nightmare was flung from the land of Equestria and neighbors, But Luna was not returned. And by being used against another of their own, The Bonds the elements aligned with Luna and Celestia broke. As to did the Elements. Now only the Element of Magic remains. Protecting the Imperial Equestrian Empire and Celestia has come to grieve the loss of her sister.
Nightmare Moon Though Banished has not remained idle. In her lands across the World she has made her realm of Eternal Night. Her Darkness consumes the minds of those who enter, turning them into her nightmare creatures.
Time is running out, for the nightmares are slowly concurring the world. And all fear one day Nightmare Moon herself will rule the world.
Now the Empire is in true trouble for the Element of Magic is Missing!!! Can it be found before Nightmare Moon conquers the world? Or is it already to late.
This story is a collab concept between me and some other bronies I know
Father Mordteiva(owner of the story)
Mallsp(creator of the base concept)
Other people include
Ahonata
No2Milk
all above are editors for the story as well
All in Service of the AcolytesofDiscord
Chapters (3)