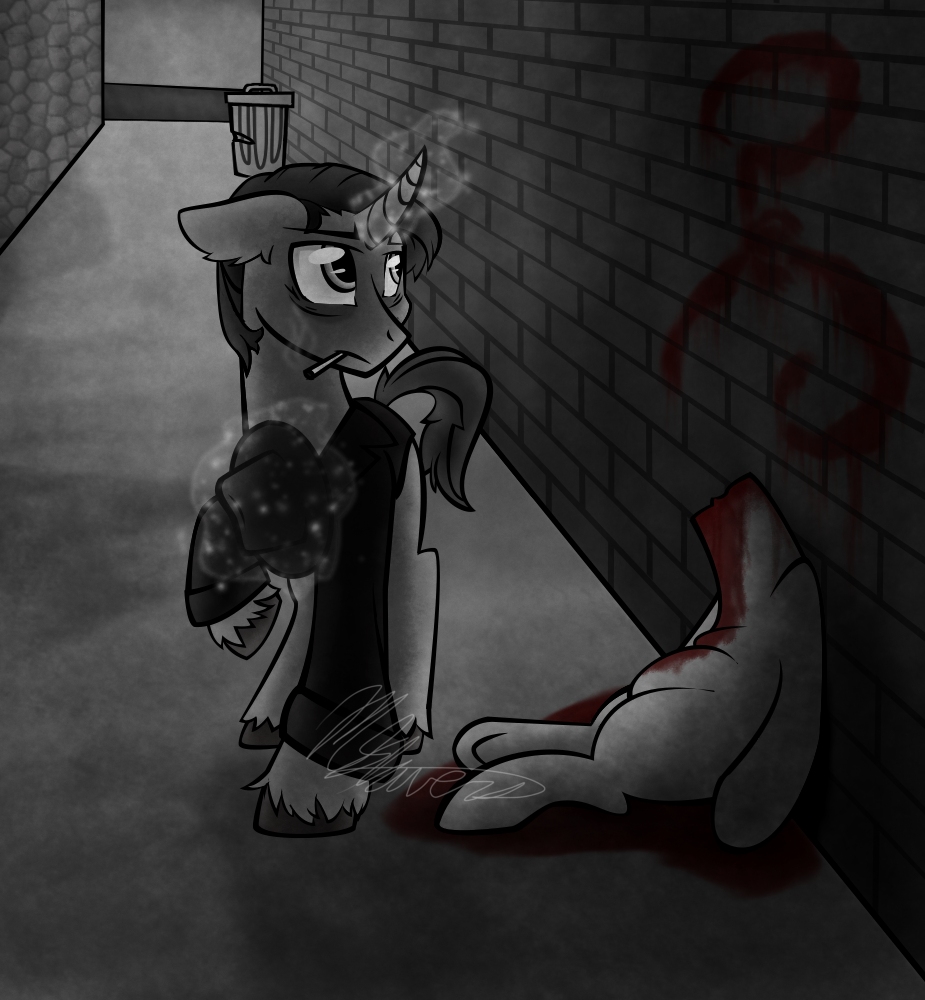 Folklore as a unicorn of Erenn descent has a connection and his mear presence incites animosity from all Fay, including Changeling, specially Changelings.
Fay once ruled Erenn, but Unicorns from the Mediterranean found themselves stranded on Erenn over six-thousand years ago, and at first tried to coexist with the magical and seemingly immortal then Tuatha De Danann. But due to the Magical nature of the Tuatha De Danann, and their seeming regenerative long lives existence they developed a completely different morality to Mortal Unicorns and as such things that they saw as mere pranks, or acceptable tricks, or even just punishments for what they considered slights were atrocities and horrifying to the Unicorns. The Tuatha De Danann were innocently cruel yet cheerful mighty spirits, that did not understand or had difficulty believing just how fragile Mortal Unicorns where.
Eventually war broke out. The Tuatha De Danann armies slaughtered Unicorns as if it where mere sport, and treated the one sided fighting as amusement. Until one day a Unicorn Druid created the unthinkable, a substance that could make them bleed, and keep on bleeding. Magick Cold Iron...
Before the Tuatha De Danann could take things seriously enough to notice, all of the remaining armies of Mortal Unicorns were armed with weapons made with this Magick Cold Iron, and no longer could the Tuatha De Danann heal in seconds from seemingly mortal wounds. Now they bleed, and bleed. Wounds that would normally heal on mortals eventually became lethal to the Tuatha De Danann, and the mighty where facing an army of vengeful, spiteful mortals, that could now kill them, by inflicting wounds that would never heal.
This eventually forced Tuatha De Danann into the deepest darkest parts of forests, the deep caverns under the hills of Erenn, and to hidden away Magickal realms. Through thousands of years of isolation and inbreeding they became the Fay, and the Fay eventually found themselves sterile yet capable of seemingly eternal life for as long as the dreaded Magick Cold Iron was never used against them. So they created the Changelings to steal emotions, steal Children and Loved Ones, and have those that where Stolen to be used by the Changelings to reproduce more Fay, and maybe even restore them to once gain be the Tuatha De Danann.
What happened instead was that from their kidnapping, consumption of emotion, and systematic mass violation, only more Changelings were "hatched" from their hives. This forced the Fay to do the unthinkable, to reach a truce with the Erenn Unicorns. And so they did, and with their combined Magicks, and the weapons of the Mortal Unicorns they drove away and killed as many Changelings as possible.
At this point in 1107 Before Celestia's Reign thet Changelings hid away across all of the west in the little remaining still wild forests of Europa, and the deserts of South West Equestria and North Zebrica.
Folklore is a direct descendant of the one Druid that created the Magick Cold Iron that did all of this, his entire bloodline for thousands for years brings an instinctual yet inexplicable loathing and dread to all the Fay. Those Fay that were not alive then have forgotten, why the presence of a Lore Druid inspires hatred and fear, but they feel it in their blood, but have no explanation as for why. A Lore Druid would have to get close to a Fay for this effect to take place.
But Changelings while they were the first to forget, where the ones that held the most hatred. And would go berserk upon proximity to a Lore Druid...
[Adult story embed hidden]
[Adult story embed hidden]
[Adult story embed hidden]