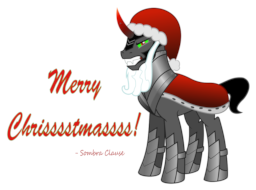 Source
Flurry Heart, like everyone else in the Crystal Empire, knows that along with the Hearth's Warming traditions shared with the rest of Equestria, the alicorn known as Kris Kringle, with the special talent to know who's naughty or nice, travels from home to home during Hearth's Warming to hand out presents.
What she needs to know is whether Kris Kringle's mind can be changed.
Thus, she embarks on a quest, sleep depriving herself to prepare for Kringle's arrival. It's that mixture of Hearth's Warming fear and sleep-deprivation that allows Sombra access into her mind to harvest that fear to reform. With Auntie Luna staved off by the wards Flurry Heart set up herself, it's up to her to send Sombra back to whence he came.
Sex tag is there for an innuendo early on. Don't worry, this story's PG-13.
---
Written for Frazzle2Dazzle for Jinglemas 2022 with the prompt,
Sombra and Flurry Heart, with no romance.
Hope you found this enjoyable, my man. I had more of a blast than I expected writing it. Merry Christmas.
Chapters (1)