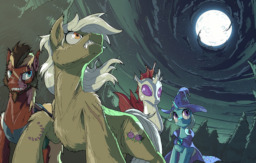 Things used to be so simple before Autumn shifted, before she knew what she was. As she goes on her journey she will meet many different creatures. Some will be friends and others will mean to do her harm. Can a Canis Equus ever have a happy ending despite being something other ponies deemed a myth, a monster?
Edited by RandomGuy101

, huge shout out for the great work!
Proof read by Majora

who is helping to make this story better who also deserves credit for their work and advice!
Amazing Cover art done by the myth, the legend JodTheCod:
https://www.fimfiction.net/user/331279/JodTheCod Thank you so much for the amazing cover art!

Chapters (12)