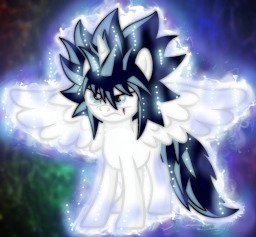 Source
Lord Beerus, God of Destruction of Universe 7, woke up after several years to face a warrior that his Prophetic Dream says will be his ultimate rival, The Super Saiyan God, Son Goku. During the fierce battle between the 2 deities that is able to shake the very Universe, Beerus's Blast Attack is able both to destroy Earth and send our Hero to another world.
Son Goku finds himself in a land called Equestria as an Alicorn and must adapt to his new home and get stronger in order to protect it from any threats. Will Goku surpass the power of the Super Saiyan God with the help of his new friends or will he fail once again to protect the ones he cares?
Set after the events of the Battle of Gods Saga of Dragon Ball Super and from the beginning of the 4th Season of MLP FIM onwards.
1) Battle of Gods Saga
2) Lord Tirek Saga
3) Resurrection of "F" Saga
4) The Dazzlings Saga
5) Starlight Glimmer Saga
6) Tournament of Destroyers Saga
7) Revenge of Starlight Saga
8) The Dragon Lord Saga
9) Goku Black Saga
10) Wrath of Chrysalis Saga
11) Tournament of Power Saga
12) Broly Saga
13) Rebirth of Daybreaker Saga
14) Return of the Pillars Saga
15) The Storm King Saga
Chapters (21)