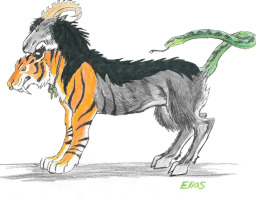 After the war, Everfree Forest remains one of the only places untouched by radiation, nevertheless it remains the most dangerous. It's a hazardous location to live, even for a chimera...
Elias is one chimera – he resembles a hybrid of a tiger, goat and a snake, with three conflicting personalities. To those who journey through the Everfree Forest, he's an obstacle, another beast to placate. Like the dragons and manticores, a chimera is not a creature you want to provoke. But life as a predator isn't as secure as the travelers think. Elias has learned firsthand that the forest is an unforgiving place for not only ponies but also the various creatures who reside there. But what happens if he ventures out into the wastelands?
Spin-off of the Fallout Equestria universe from a different point of view.
Chapters (2)