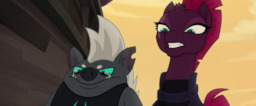 Source
One year after the defeat of the Storm King, Tempest Shadow and Grubber are now residents of Canterlot. With Twilight's help, the two of them start to become friends. Tempest reflects on how she has changed since then. She is starting to learn how to trust again. Yet she can't help but feel like something more than her horn is incomplete. And she meets a young stallion who just might be able to identify with her feelings.
Be aware that since this story takes place after the events of My Little Pony: The Movie, there are some spoilers regarding the ending of the movie plot.
Stormfeather (a background pony from the show) makes an appearance here. The story eventually contains a relationship between Tempest Shadow and an original character (the stallion Xenon). It is my first piece on this site, so any feedback would be helpful!
Chapters (4)