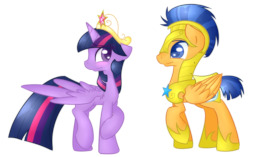 Twilight is taking a visit as the Crystal Empire, when she meets Flash, a guard. What she doesn't know, is that she is going to have the trip of a lifetime, for more than one reason...
---
Twilight has not been a human before. In other words, she has no idea who he is.
I will take down art if requested.
Chapters (8)