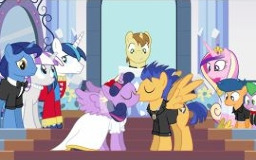 Source
This is my anthology of stories derived from Bad Seed 72's immensely enjoyable tale "What Hath Joined Together".
These are one-shots or vignettes loosely tied up in to the arc of how I thought the story was going to go over the months of her Hiatus in 2014. Do not mind if they are in anachronological order.
I wrote them down in an old diary with a favourite Parker pen, sometimes stopping altogether when I ran out of ink, (I live on an island where the nearest W.H.Smiths's is in Oban, sixty or seventy miles away and one cannot buy ink re-fills in the local shops.)
I am not bothered about this getting downvotes because one of the main characters is Flash Sentry. I think that Brad and Flash Sentry are two separate persons.
Chapters (10)