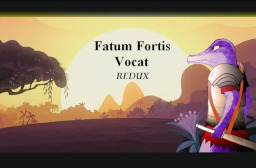 (All Special Thanks and information are included in the Preface. Please be reminded this story is NOT in the "Chess Game of the Gods" universe.)
Enter Fatum Fortis Vocat Redux.
While taking a casual hike in a nearby park, Travis soon finds himself lost. What happens next will not only change his entire idea of reality, but quite possibly make him the last hope for two worlds...
Chapters (8)