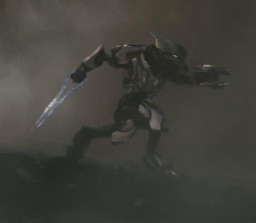 In the chaotic period following the fall of the Covenant Empire, the Shipmaster Vraal Rutaen does his best to ensure the safety of his race. For years he and his crew have fought countless threats, searching at the same time the precious Forerunner technologies on which depends the future of the Sangheili. But this is not enough. The Sangheili, once proud warriors that fought in name of glory and honor, are now without a true purpose to live, risking the extinction. But when they discover accidentally a new planet that defies every law of physics, maybe they've also found the answer to their existential question. All depends on the first contact with the inhabitants.
---
Chapters 1 to 18 edited by Requiem17.
---
"Speech."
'Thoughts.'
"Speech in a foreign language." (Ponies hearing Sangheili language - Sangheili hearing human/pony language)
---
THE STORY IS NOT ABANDONED. I'M JUST TOO BUSY TO CONTINUE IT AT THE MOMENT, SO PLEASE STOP ASKING WHEN I WILL UPDATE IT. READ MY BLOG FOR DETAILS.
Chapters (19)