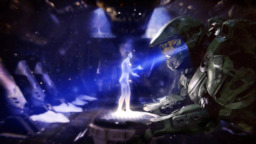 Source
After the destruction of the Ark and the collapse of the Portal, the wreck of the frigate Forward Unto Dawn is transported on an unknown planet, where a series of events initiated long ago will bring the inhabitants of two completely different worlds to fight side by side against an ancient enemy long forgotten.
---
Placed between the events of Halo 3 and Halo 4 and immediately after the end of Season 3.
---
This is my first fiction and English is not my first language. Editing by Requiem17.
Criticisms and suggestions are welcome.
Chapters (1)