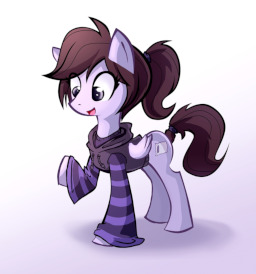 Source
When a simple small town Pegasus finds herself out of work, she takes up the offer of an old fillyhood friend to move to the big city. After all, it has been over ten years since the portals to the human world were opened, ponies do this all the time now right? All anypony talks about these days are all the Humans In Equestria, so what about the ponies looking for a better life in a new world?
--------------------------------------------------
This fic is a series of short, slice of life stories about a pony who loves soft clothing adapting to life in the human world.
I adapted this old fic of mine from it's horribly done greentext version into prose so I can stop being so ashamed of it and finally write some more. Hello PiE threads!
Chapters (6)