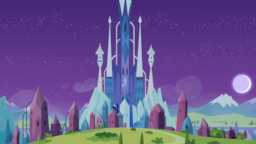 The Equestria Games are the event of the decade. A reason for great celebration. For the Crystal Ponies, it's the very first time they see the Games, and they even get to host them. They are euphoric.
The happiness and light within them powers the Crystal Heart. As the Heart receives more power, its effects get stronger. In particular, the arctic ice around the Empire is pushed back farther than ever before.
And under that ice, something slumbers, something waits. Now, it is uncovered. Now, it awakens.
---
Yes, I know this story is about an ancient being awakening from thousands of years of slumber. Yes, I know the tags are Dark and Tragedy.
But do you see the tag that's not there? It's the Adventure tag. So, if you're looking for a story where the fate of the world hangs in balance and dark forces bring about a tragic ending, please move along. This is not the story you are looking for.
---
Just an idea I had a while ago that wouldn't let me go. Will not update frequently, as I only wrote this on whims.
Character tags may be added as the story progresses.
I'm not quite sure if the categories are quite right. If you have any input on that, just tell me.
If you find any grammatical errors, please point them out so I can exterminate them.
Chapters (2)