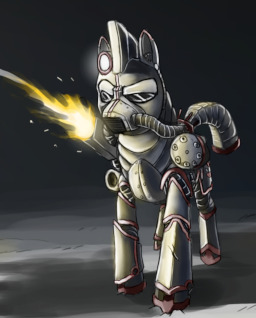 Source
Your past is something you have to live with. A reality of life. Every success, every decision, every mistake, will live in your past. They will always stay there. You cannot escape it.
This is the tale of a pony who thought his past was blown away by the winds of time. He is testing a new design of the Steel Ranger armor created as part of a mysterious project, when a series of events lands him underneath a collapsed outpost for 200 years. With hardly any memories and only the wasteland to greet him, Razor must set out with his new, and slightly unusual, friend, Paragon, to recover his lost past. However, your past can be filled with all kinds of secrets, secrets that can tear your world apart.
This is an unofficial side story (that means it is not endorsed, or probably even known, by kkat) to kkat's Fallout: Equestria. If you haven't read it (meaning Fallout: Equestria) yet, I definitely recommend it, and many plot details will be missed in this story. Huge thanks to HeroeDeLaVida for help with plot and characterization, and Fiendofthet for help with proofreading and editing. Couldn't do this without you guys!
Note: This story is currently being rewritten. I've finished chapters 1, 2, and 3, and am working on chapter 4. Because of this, this story is sort of on hiatus in that it will be a while before the next new chapter. Please bear with me as I'm updating the story.
Chapters (4)