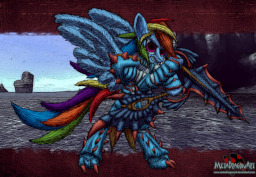 After much coercing from Twilight, Rainbow Dash decides to read a book other than Daring Do. Looking around in Twilight's library for any sort of book that catches her interest, Rainbow comes across an odd untitled book. Looking within reveals information on all sorts of monstrous creatures, and the odd beings that hunt them. The rest of the book however, is completely blank, which confuses the pegasus, thus she brings it to Twilight. Though confused by the book's presence in her library, Twilight informs Dash that the book is most likely a write your own adventure story, with the information within the book being the setting and elements within the plot. Intrigued, Rainbow decides to give the book a whirl, and takes it home with her to write her own adventure.
However, upon getting ready to write, the enchantment upon the book activates, pulling Rainbow Dash within. Now Rainbow Dash must embark on a quest to hunt and slay the most powerful monster in order to leave the book. Within this new world she'll face great dangers, see amazing wonders, and meet new friends, and who knows, maybe this adventure will be better than anything Daring Do will ever experience.
---
I do not own the cover art. My little pony is copyright of Hasbro, and Monster Hunter 3 Ultimate is copyright of Capcom. I own nothing.
Chapters (4)